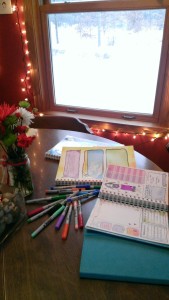 I'm still in the midst of planning for 2016, even though we're more than a week into the new year. I'm really enjoying the process, since it involves the delightful and colorful Shining Year planners created by Leonie Dawson. There are so many cool things in the works for this year!
Other than writing in the planners, and in my journal, most of my writing this week has been in the form of correspondence. We're gearing up to offer our online course, The Alchemy of Core Beliefs, later this month, so I've been following up with those who are interested, and reaching out to others. It's going well so far.
Here's my list of mini-goals for this week:
Finish making plans for 2016 and filling out my planners accordingly.
Continue to promote Alchemy and fill more slots.
Write blog posts and create a plan for future posts.
Set up times to work with BlackLion on revising our The Door Is the Key novel draft. We've been away from this for many months and I'm ready to get back to work on it!
I hope your week goes well and is full of inspiration and new words. Blessings!